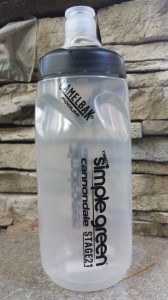 Hey club members, are you still using those old thrashed Bike Religion water bottles? If so, this is your opportunity to trade those things in for some nice, new Simple Green / Stage21 Camelbak Podium bottles!
Here's the Deal
Bring in your old yucky worn-out Bike Religion water bottles to our new club shop, Stage21 Bikes, and exchange them with some brand new beautiful Simple Green/Stage21 bottles. You can bring in up to three (3) bottles for free exchange.
Don't delay. Offer good while supplies last.
Bottles are also available for purchase.
Stage21 Bikes
The club's local bike shop (LBS) is located at:
23582 Moulton Parkway
#111
Laguna Woods, CA
92637
855-949-7433 (toll free)
949-716-3363 (local)
Remember, club members get a 15% discount at the store and online (and free shipping, too!)