2011 is right around the corner, which means it's time to renew one or more of the following:
Cycles Veloce 2011 Club Membership
Renewing your Cycles Veloce membership is a no-brainer. The club has so much to offer, and the cost of annual membership is one of the best deals of any club out there. On top of that, you'll have access throughout the year to various merchandise discounts that are simply out-of-this world! But,  in order to access the various members-only sections of the website required to gain access to these deals, you need to be a member in good standing.
Renewing your club membership takes only a few minutes, and you can pay for it online with a credit card. Cycles Veloce uses PayPal as its credit card processor, but it does not require you to have a PayPal account in order to purchase. Why not take a little time now and renew that membership before you forget?
USA Cycling License
For those of you who race in USA Cycling events, you'll need to buy a USA Cycling License as well. For 2011, Cycles Veloce has officially registered "Team Cycles Veloce/Bike Religion" as the Team name for 2011. In order for the team's results to be consolidated under one name, it is important that you include both the Club name (Cycles Veloce) as well as the Team name (Team Simple Green/Bike Religion) when registering. The following guideline will ensure that you register both the Club and Team names correctly:
Log In or Create Account

:

If you are currently an existing USA Cycling member, you first need to log into your account. Then you can click on the Purchase/Renew License link. If you've never had a USAC license before, then you first need to create an online account with USA Cycling. Click Here to begin the process.

Choose Your Club Name

:

Once you get past Step 2 Licenses & Waiver, which consists of the License Information page followed by the Waiver and Release pages, you will then proceed to Step 3 Payment. At this point you will see your Purchase Summary, which will look similar to the following:

This is where you should select Cycles Veloce – TRABUCO CANYON, CA from the drop-down list as your Registered Club. Do this for all licenses that you are purchasing. Then click on the Next button.
Choose Your Team Name

:

The next screen will now allow you to choose a Team Name. Note that this is optional, but if you don't select anything, the club name (Cycles Veloce) will be used by default. IMPORTANT: DO NOT SKIP THIS STEP!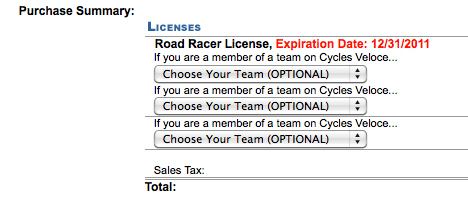 At this point you should select Team Simple Green/Bike Religion as your Team Name for each of your licenses. See below: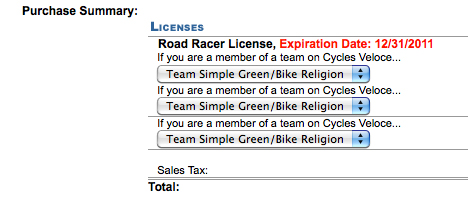 Now all that's left is to click on one of the payment options at the bottom of the screen to complete your license purchase.

California Bicycle Racing (CBR) License
By purchasing a 2011 CBR Membership, you will be entitled to a $7 discount off your first race at each event during the season. Additionally, if you purchase your annual license by 12/31/10, the price is discounted to $40 ($60 after 1/1/11). Buying a CBR Membership helps to support local racing here in SoCal. Go to California Bicycle Racing for more details.
Print This Article