ONTARIO, CA (Dare to Race GP) – After a tough start, crashing on the last lap at the Valley of the Sun race – Daniel Gay notched his first race win in road cycling with teammate AJ Loftus nearly getting a podium slot in the same event. Daniel is new to road racing in 2011 but is not without some bike experience, having been a national BMX competitor some years ago.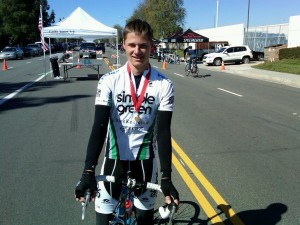 Dare to Race GP (Rank 1.0) Junior Men 15-15 Top 5:
Daniel Gay –

Team Simple Green/Bike Religion

Scott Cohen – Encino Velo Cycling Club
James Pfughaupt – Sho-air/Rock 'n Road
Quinten Kirby – ACQUA AL 2/SDBC
Aaron Loftus –

Team Simple Green/Bike Religion
Sage Brush Safari 2011
Jarred Jordan Continues to Show His Promise in MTB
On this same weekend, another Simple Green/Bike Religion Junior team member, Jarred Jordan notched a 2nd place Cat 1 Junior's event. The event, which included a knee-deep river crossing, was held on a modified course after it received 2+ feet of snow. It took grit and determination to even finish and 2nd place on the day is a huge result. The full story and complete results of all categories can be found on the Cycling News website.