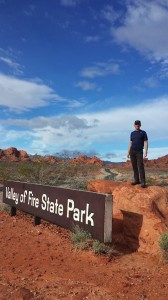 I went to Nevada this last weekend and raced the three day Valley of Fire Stage Race.  Two of the three races are in and about the town of Overton, a small town of approximately 1,800, located about 65 miles northeast of Las Vegas.  The one race not in Overton was the stage one time trial.  The time trial was located just off Interstate 15 (Hidden Valley exit) about 45 miles north of Las Vegas.  Overton features stunning landscapes of mesas, foothills, and nearby Lake Mead.  It is also the closest town to Valley of Fire State Park.  More on that later.
On my drive to the host hotel (North Shore Inn) in Overton a day before the race began, I exited I-15 at Hidden Valley and pre-rode the time trial course with several other racers.  The topic of concern amongst everyone there was the weather.  Most of us had just fled Southern California and the worst two day rain storm in 50 years and it looked like the storm was following us.  The course would be challenging and with the rolling nature of the 6.2 mile out-and-back a smart dolling out of effort would payoff huge in the end.  I made a mental note of this particular observation.
Thursday night brought rain and thunder.  Friday was a wet 21 mile drive from Overton to the TT course.  Once there another observation was made.  There was no place to warm up for the TT.  The start of the TT was about 200 yards from the freeway exit, and the course was off limits to anyone except racers on course.  So those of us without trainers were forced to ride back and forth on this short stretch of road, in the rain.  Not good.  On the bright side, when my turn came to start the rain had ceased.  And with only one sharp sweeping turn at the bottom of a fast 35-40 mph descent the rest of the course was relatively safe.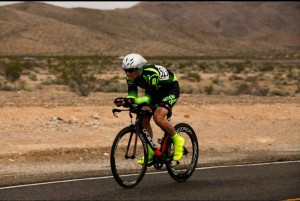 My immediate goal was to stay in the drops through this sweeper and hold as much speed as I could to the turn around.  Then back off a bit and save some matches for the climb back up that same sweeper and get back on top of some big gears for a fast finish.  All that worked to perfection, except the part about saving a match.  I had my head down too long and at a certain point I looked up and the hill I had blasted down at over 35 mph only a few minutes earlier, was now staring at me; too late for any match saving.  I watched as my speed dropped to a dismal 12 mph and the seconds tick away.  My goal had been to finish under 15 minutes.  Fifteen minutes appeared on my Garmin 16 seconds before I crossed the finish line.  Those 16 seconds seemed to take forever.  Ironically, 16 racers finished faster than I.   On a bright note, I gained 10 seconds on my 30 second man, and I caught and passed my one minute man.  That gave me a false sense of speed.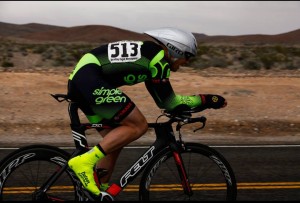 Stages two and three went much better, and the weather was perfect.   Stage two was your basic four (actually 4 1/2) corner crit.  The course circled the middle school in Overton.  It was very cool as the locals came out to cheer on the strange spectacle.  With six Spy riders and four or five Microseal Racing Team riders (eventual overall winner, Louie Amelburu's team), Thirsty Bear Cycling Team, and several other teams, it was challenging being the only Simple Greener.  If bonus seconds were awarded for best kit in the peloton, I may have been on top of the GC.  Unfortunately, even my sweet day-glo green booties didn't sway the race officials.  That aside, I patrolled the front ten of the peloton the entire 45 minute race.   I knew that Louie Amelburu's team was mainly concerned with protecting Louie's lead from the time trial.   I also knew that Team Spy wanted, and was very capable, of controlling the race and winning.  Their sheer numbers and speed of some of their guys made it difficult for anyone to get away.  Plus, they had a couple of riders in the top ten and I knew they wanted to get the ten second bonus by winning the race.  My goal was to follow anything that looked promising, but at the same time use as little energy as possible.  This worked well because once you become a fixture at the very front of a race it seems easier to stay there.  With eight laps to go riders attacked and were caught.  With five laps to go riders attacked and were caught.  With two laps to go, Alan Flores (Team Spy) took a flyer.  I was right behind Louie and figured there was no way he would let Alan stay away.  Alan has a couple of strengths as a racer; he can sprint and he can time trial.  For one lap there was a lot of looking around as everybody waited for somebody else to chase.  With one lap to go panic struck.  It seemed Microseal put some guys on the front and the pace picked up drastically, and I got swarmed.  As everyone jockeyed for position going into turns two, three and four, I took an outside line and made my way up to about 8th wheel going into the final turn.  Coming out of the turn I was able to sprint past a handful of riders and finish 5th.  Somewhere in that final stretch Alan was caught and he held on for a solid 3rd.  His teammate, Greg Lonergan, took the win.  A very well played out plan by Spy; send a rider up the road, make another team chase and have one or two fast finishers standing by to pounce.  Deal done.  Kudos to them.
After the crit, I drove the road race course.  It was listed on the flyer as a 72 mile out and back through Valley of Fire State Park.  It's actually 65 miles.  No complaints from me.  The drive psyched me out quite a bit.  A 12 mile climb almost immediately, followed by miles of ups and downs, and then a 12 mile descent out of the mountains to the turn around point at I-15.  Then back up that 12 mile climb and back into the mountains and through Valley of Fire State Park with its ups and downs and a final 12 mile descent back into Overton and the finish.  I did not want to replay my UCLA Road Race experience from a couple weeks ago where I raced with the peloton for 3 miles and then rode over 50 making new friends off the back.  On the bright side, Valley of Fire in March is beautiful.  Its majesty ranks right up with Bend, Oregon, it's just on the other end of the spectrum.  Rather than plush and green, it's dry and dotted with beautiful red rock formations.
Sunday morning began with the North Shore Inn's Continental breakfast, scrambled eggs, ham, oatmeal, yogurt, boiled egg, orange juice.  Repeat.  I wasn't going to be undernourished this day.   The race began as all races do.  Nervous.  Mud and debris in the road caused riders to constantly squeeze close together to find safe lines as we exited town.  At mile three, I proudly announced to a racer from Arkansas, (Steve Pascoe) that I was already a winner and I hoped to make it to mile four.  Mile four turned to five, then six, and so on.  A handful of accelerations occurred and a handful of riders came off the back.  I stayed outside the top ten and worked hard to get around riders creating gaps.  And as the final climb came into view about 20 miles into the race, a 1/3 mile beast with about a 10-13% gradient I knew I had made it.  The short punchy climbs like this seem to suit me much better than the 12 mile 3-5% climbs at speed.  After cresting and dropping a few more racers, we began the 30+ mph descent to the turn-around at I-15.
As expected, the riders at the front hit the gas immediately after making the tight u-turn.  Guys like me who were hoping they wouldn't attack, sprinted like crazy for about a mile to catch back on.  Once back on, the pace immediately slowed to something civil.  If 22 mph up a 4% grade hill is civil.  I was amazed we were going that fast but I felt strangely good.  Legs weren't hurting, heart rate was low, and I was eating gels, eating bars, and drinking water without problem.  We raced back through Valley of Fire and at a certain point I realized it was (literally) all down hill to the finish.   We began our descent into town it was obvious the 25 or so of us left were going to be sprinting it out.  I rarely get the opportunity to sprint for a win in a true road race so it was a pretty nervous last few miles for me.  But just as in the crit, Spy and Microseal Racing patrolled the front and with the center line rule it was very difficult to move up and take a good position.  Fortunately by then everyone's legs were toast and when the road opened for an extra lane as we entered town (about 1K from the finish) I was able to power along the outside and jump onto the Spy train just as they were ramping up.  Their sprinter, Greg Lonergan, launched from a few position ahead of me so I was unable to recover that lost real estate, but I did get around a few and at the finish line I counted just three bikes immediately in front of me.  Not first, but a very satisfying fourth.
Anyway, that's how the weekend went.  When I left I was 12th overall on GC, but this morning after a recalculation of times I was moved to 13th.  I also did the math and saw that sure enough, I was 13th.
Whether any of the above is true or not, that's how it appeared from my seat.
— Russ