Before purchasing your USA Cycling license, please read the following guidelines to ensure you register properly. Not only will you be fulfilling a sponsor obligation, but your race results will be correctly tabulated under the same team name rather than split between team and club names.
Important Guidelines You Need to Follow
Cycles Veloce is an officially registered club and racing team with USA Cycling. As such, it is important that you explicitly identify both the club name as well as the race team name when you purchase your racing license. Failure to do so will result in your race results being incorrectly tabulated under the club name Cycles Veloce, when they should actually be under Team Simple Green/Bike Religion.
NOTE: You will not receive race reimbursement unless your license conforms to this requirement.
Step 1: Log into your USA Cycling account
When purchasing your license at USACycling.org, if you don't already have an account with USA Cycling you will need to create one. If you are renewing, simply log in and then click on the Purchase/Renew License link.
Step 2: Select License(s)
Select the licenses based on the race disciplines (Road, Track, Mountain, Cyclo-cross, etc) you plan to compete in during the upcoming season. Note that you can always add licenses during the calendar year.
Step 3: Electronic Sig on Waiver and Release
Read the waiver and media grant, then electronically sign by typing "I agree" in the designated box.
Step 4: Order Summary – Choosing Your Registered Club Name
In the Order Summary window you will be presented with the list of licenses that you selected in Step 2 above. Although it states that selecting a club name is OPTIONAL, do not skip this step! There is a drop-down field for each discipline. This is where you should select our registered club name, "Cycles Veloce – TRABUCO CANYON, CA" from the list of available clubs. Repeat this for all licenses in your order.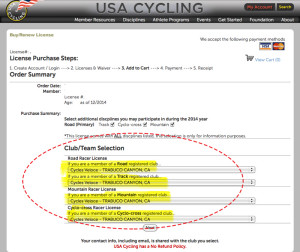 Click image to Magnify
Step 5: Order Summary – Choosing Your Team Name
For each license in your order, you will see the following: "If you are a member of a team on Cycles Veloce…" with an accompanying drop-down field. It will state that selecting a team name is OPTIONAL, but do not skip this step. Instead, choose "Team Simple Green" from the drop-down list. Again, repeat for all licenses you are purchasing. This is important as it satisfies one of our sponsorship agreements.
Click images to Magnify
Step 6: Pay
All that's left to do now is to Add to Cart, then pay using a major credit card.

Print This Article