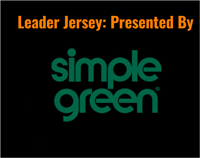 The iconic Over the Hump MTB series (https://raceoc.com/) is about ready to kick off. July 20th through Sept 7th. Simple Green is a sponsor of the "Green Jersey" and we would like to see team members own all the various categories! To support that, we have the following team benefits for OtH:
Race the entire series. Unlock and use the code below when registering for all 8 races only and receive a 50% discount on your entry fee! $280/2= $140 savings if you do all eight races! This applies to kids races too, if they are a team member or an adult family team member races too. In addition, if you start and finish all 8 races, Team Simple Green will reimburse the $140 you spent above. Race for free! This applies to kids races too, if they are a team member or an adult family team member races too. This offer is good to the first 10 members who sign up per race. 8 races, 80 members potentially race for free!
Can't make the entire series? Utilize the code shown below for single races for a 20% discount on an individual race.
Bonus! If a team member wins the overall series in any category, the team will pay you $100! And you can call yourself a professional bike racer! 🙂


Requirements (Simple!):
You must be a team member. Note: Do not give the codes out to nonmembers, it will be embarrassing for them when they try to roll thru check-in. Join the team first, then you must REGISTER ONLINE! You must wear the current kit, register as "Team Simple Green/Mediaspot/RocknRoad Cycles", post on social media and use hashtags: #SimpleGreenCycling, #SimpleGreen, #RockNRoadCycling.
When the series concludes, please reach out to Mike Okano with what you accomplished. He'll confirm with the promoter and you'll get your reimbursement via PayPal. Ok, let's get out there and Race!! Please direct any questions and/or race results you may have to Mike Okano on the Contact Us page. Thanks!
SPECIAL RACE DISCOUNT CODES
This is a 2021 "Members-Only" Offer!
If you are currently a 2021 club member but don't see the codes below, please log in now to unlock and display the two discount codes.
Deals like this are exclusive to having a club membership. If you've been considering joining the club, this would  be the perfect time to Join/Renew and take advantage of this and more!
RACE DISCOUNT CODES: